Calendar
A

A
Every Thursday night, EDGE transforms into a champagne ultra-lounge with bottle and cocktail specials. Our favorite DJs spin an eclectic mix of music on vinyl in the lounge before midnight.
Break out your dancing shoes! Friday nights, we open our doors at 7pm to welcome guests to The Latin Dance Social, hosted by BB and Kiki of Salsa Reno. Beginning at 7:30pm, BB and Kiki teach beginner-friendly dance lessons that include Cumbia, Salsa and Bachata. As the night progresses, our resident DJ's take over the booth to spin today's newest music!
EDGE remains true to the art of DJing, hosting world champion DJs and seasoned professionals such as Craze, Four Color Zack, Spryte, Scene, Fashen, Konflikt and many more. Boasting a 35,000-watt sound system, you won't miss a beat juggle, a scratch, a cut. Whether you're into dance or hip hop, our resident and guest DJs are here to take you on the ride of your life.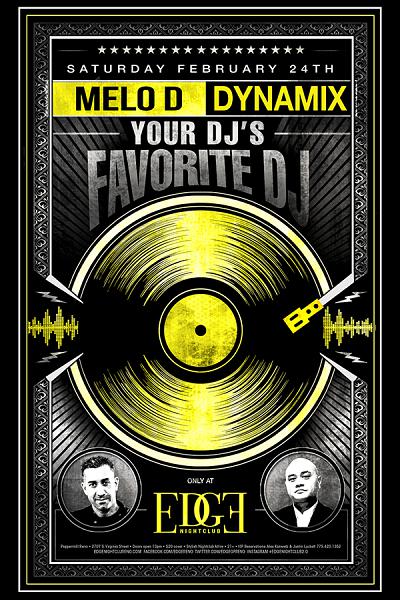 Your Favorite DJ's featuring Melo D and Dynamix
See Melo D and Dynamix perform Sat. Feb. 24 at EDGE
Dynamix
Having taken the party-rock battle scene by storm, Dynamix has been collecting titles beginning with the King of LA DJ Battle, followed by the Beezo Battle, Mai Tai Rumble, the highly coveted Winter Music Conference Scratch Battle, then taking an unprecedented back-to-back Red Bull Thre3Style Championship in Los Angeles, where in 2012, he placed 3rd in the Red Bull Thre3Style National Finals.


Melo D
A Globally recognized artist, Melo D is known for developing a remarkably flawless style of mixing founded in technical precision. He is a founding member of the world-famous Beat Junkies and has headlined major clubs around the world.
Doors open at 10pm. 21 and over.


VIP Reservations:
Alex Kanwetz 775.870.3000
Justin Luckett - 775.420.1352
Must be 21+. Doors open at 10pm. $20 Cover. Stylish nightclub attire required.